Real Estate Investing Made Easy
Posted by Krista Farr on Monday, April 10, 2023 at 2:13:36 PM
By Krista Farr / April 10, 2023
Comment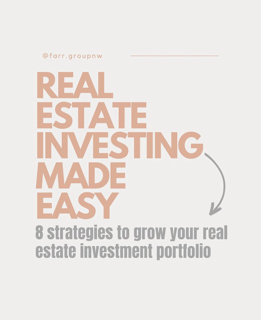 1. RENTAL PROPERTIES: Purchasing a property with the intention of renting it out to tenants can generate a steady stream of passive income. This can be as simple as using your own primary residence or purchasing a 2nd property with the intentions of renting it to tenants.
2. FLIPPING HOUSES: Buying a property, renovating it, and selling it for a profit can be a lucrative investment opportunity. Make sure to seek the advice of a real estate professional or another person who has gone before you to help you evaluate the property and make sure that it will make you money.
3. REITs: Real Estate Investment Trusts allow individuals to invest in real estate without actually owning any physical property. Instead, investors purchase shares in a trust that owns and operates income-generating real estate. *Not all REITs are created equally. Make sure to consult with a financial advisor.
4. CROWDFUNDING: Crowdfunding platforms allow individuals to invest in real estate projects with other investors, pooling their money together to purchase and manage properties. *consult with your financial advisor
5. HOME EQUITY LOANS: Homeowners can take out a loan against the equity in their home and use the funds to invest in real estate. The money can be used for a downpayment on another home, renovation costs or as a private money loan to another investor.
6. WHOLESALE REAL ESTATE: Investors can purchase distressed properties at a discount and then sell them to other investors for a profit.
7. REAL ESTATE PARTNERSHIPS: Investing with other individuals in a real estate partnership can allow for more resources and skills to be pooled together to invest in larger projects.
8. BUY A PRIMARY RESIDENCE: As simple as this sounds, the second you purchase your primary residence you have automatically invested in real estate and have begun your portfolio. This is an appreciating asset and one that will grow in value for as long as you hold on to it.