What Is Happening In The Spokane Housing Market
Posted by Krista Farr on Monday, July 17, 2023 at 3:14:24 PM
By Krista Farr / July 17, 2023
Comment
Homebuyers —

Today, now, this weekend. 𝗧𝗛𝗜𝗦 𝗜𝗦 𝗬𝗢𝗨𝗥 𝗧𝗜𝗠𝗘.

These are email headlines that I received in the last 2 days from local Spokane real estate agents and brokerages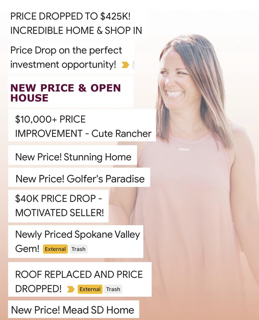 𝗪𝗛𝗔𝗔𝗔𝗔𝗧!?

➡️Price Reduction.
➡️➡️New Price.
➡️➡️➡️Price Drop.
➡️➡️➡️➡️Price Change.
➡️➡️➡️➡️➡️New Listing Price.

As a homebuyer, you want to jump ALLLLLL over this! We're experiencing some buyer fatigue + overpriced homes which has resulted in 𝘁𝗵𝗲𝘀𝗲 headlines.

Spokane has slowed (𝗮 𝗯𝗶𝘁).
But slow doesn't mean CRASHING.

We're seeing that homes are sitting a bit longer, price reductions are happening and 𝗢𝗣𝗣𝗢𝗥𝗧𝗨𝗡𝗜𝗧𝗬 𝗜𝗦 𝗛𝗘𝗥𝗘 for YOU, homebuyers, who may have stepped on the brakes, pushed back, or even paused your homebuying process.

Our advise is to take advantage of price reductions, new prices, price drops, price changes and new listing prices.
This is your time to ATTACK! 😏

If you're ready to get back into the game or start the process of homebuying please reach out to us at the Farr Group and we'll get a plan of action and strategy in place to help you get a home when the odds are in your favor!
I'm Want To Talk About Buying A Home