What Is PMI And How Do You Get Rid Of It?
Posted by Krista Farr on Tuesday, May 23, 2023 at 2:19:21 PM
By Krista Farr / May 23, 2023
Comment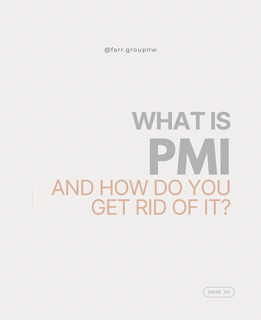 PMI is short for Private Mortgage Insurance.
PMI protects the lender—not you—if you stop making payments on your loan. It is a type of mortgage insurance you might be required to pay for if you have a home loan.
Required by lenders when you have less than 20% down payment.
Lenders require borrowers to pay PMI when they can't come up with a 20% down payment on a home.
PMI is rolled into your monthly mortgage.
It's a monthly fee, rolled into your mortgage payment, that's required if you make a down payment less than 20%.
Required on all FHA loans.
All FHA loans require mortgage insurance premium (MIP), regardless of down payment size. If you have an FHA loan or have a mortgage with lender-paid mortgage insurance, you'll need to refinance your loan to ditch those insurance payments for good.
PMI is affordable.
For example: If you buy a $300,000 home, you could be paying somewhere between $1,500 – $3,000 per year in mortgage insurance. This cost is broken into monthly installments to make it more affordable. In this example, you're likely looking at paying $125 – $250 per month.
Allows you to buy now instead of waiting until you have 20% down payment.
While PMI is an initial added cost, it enables you to buy now and begin building equity versus waiting five to 10 years to build enough savings for a 20% down payment.
There are ways to remove your PMI.
You can likely get rid of PMI if your equity has increased to at least 20% and/or you can refinance into a conventional loan.
PMI Recap:
Insurance for your lender if you miss a payment
Required with less than 20% down payment
Rolled into your mortgage
Required for FHA loans no matter the down payment amount
Affordable
Smart decision if you want to buy now
Can be removed if equity has increased to 20%