Looking For Shadle Area Homes For Sale in Spokane, WA?
Krista & Aaron Farr of the Farr Group NW are Spokane's top experts when it comes to finding a home in the Shadle area or other neighborhoods in the city. We love helping our clients find the perfect home and our goal is to make your search easy and fun! If you're thinking about buying or selling in Spokane, please reach out to us. Take a look below at the Shadle area homes in Spokane for sale right now!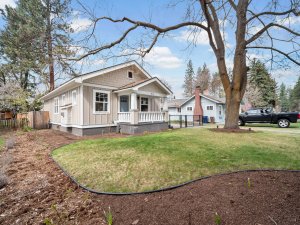 The Farr Group NW is dedicated to our Spokane neighbors who are looking to buy or sell in the area. As life-long residents of Spokane, Washington, we are excited to help you find the perfect house in Spokane and the Shadle area is a wonderful place to look for a new home.
Spokane is well known for its beautiful parks, cheerful neighborhoods, and the lively downtown scene, and you will soon discover all that Spokane has to offer!
Not only do we help people find homes in the Shadle area, but we also focus on helping clients buy and sell homes all over Spokane County including the communities of Spokane Valley, Mead, Nine Mile Falls, Airway Heights, Geiger Heights, and Fairwood.
If you're looking for homes near Shadle In Spokane, WA...check out the currently available properties and let us know if anything catches your eye!
About the Shadle Neighborhood
Spokane is located in eastern Washington along the meandering Spokane River. The Shadle neighborhood is just north of downtown Spokane, with easy access to downtown, fun outdoor activities, or the nightlife of the city.
If you are looking to get outside for an easy hike, take a 15-minute drive over to Riverside State Park for some beautiful scenery, swimming, horseback riding trails, and much more. The Bowl and Pitcher Park area is located in Riverside State Park which has miles of river fun including kayaking, swimming, hiking, and fishing. For a leisurely stroll along the river, head over to Kendall Yards and walk the Centennial Trail, a paved pathway that follows the Spokane River.
The Shadle neighborhood is only ten minutes away from the Northtown Mall, one of the largest shopping centers in Spokane. You can also go down to the Garland District just five minutes away, a historic street that is home to the quirky Garland Theatre and unique boutiques and cafes. Also nearby is the favorite neighborhood pizza joint, The Flying Goat. Get your golf clubs warmed up at the Downriver Golf Course, Spokane's oldest golf course nestled along the Spokane River and Riverside State Park.
Shadle Area Homes For Sale In Spokane, WA
Shadle Area Homes for Sale
September 22, 2023
More About Shadle Area
What's Nearby
Shadle is about fifteen minutes from Downtown Spokane, and everything Spokane has to offer is close by. The beautiful parks of the South Hill are a short drive away, as well as The Creek at Qualchan Golf Course. Mt. Spokane State Park is about an hour away from Shadle, perfect for a day trip of hiking and exploring. The mountain is also host to a ski and snowboard park, with fun for the whole family. The Spokane International Airport is only 15 minutes away, and the I-90 highway will take you to many other fun destinations in the area.
Why Work With The Farr Group NW To Find Shadle Area Homes For Sale In Spokane, WA?
Aaron and Krista Farr are both lifelong residents of Spokane, Washington. They take enormous pride in their community and are honored to help their friends and neighbors with their important real estate decisions. As a family of four, Krista and Aaron are raising two wonderful buys who love the outdoors, traveling, and any adventure that comes their way. You can find Aaron and Krista helping their awesome clients, working on one of their investment properties, with their team at 4 Degrees, or having fun with their family. Please reach out to us to find Shadel area homes for sale in Spokane, WA that meets your needs and your budget!
Contact the Farr Group NW