Looking For South Hill Homes For Sale in Spokane, WA?
Krista & Aaron Farr of the Farr Group NW are Spokane's top experts when it comes to finding homes on the South Hill of Spokane or other areas in Spokane County. We love helping our clients find the perfect home and our goal is to make your home search fun! If you're thinking about buying or selling in Spokane, please reach out to us! Take a look below at the South Hill homes for sale right now!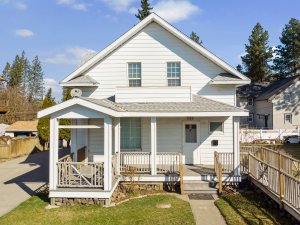 The Farr Group NW is dedicated to our Spokane neighbors who are looking to buy or sell in the area. We are life-long residents of Spokane, Washington and we love it because of its history, and its bright future.
We focus on helping clients buy and sell homes all over Spokane County including the communities of Spokane Valley, Mead, Nine Mile Falls, Airway Heights, Geiger Heights, and Fairwood. Some of the most popular neighborhoods within Spokane include The South Perry District, Browne's Addition, West Spokane, Northwest Spokane, Lincoln Heights, Manito, Comstock, Balboa, Cliff/Cannon, and Rockwood.
If you buy a home on Spokane's South Hill, you will enjoy beautiful historic parks like Manito Park, historic homes like those in the Rockwood neighborhood, and plenty of cool places to eat and shop. We have listed a few of our favorite details about the South Hill below.
If you're looking for South Hill Homes For Sale in Spokane, WA...check out the currently available properties and let us know if anything catches your eye!
Things To Do In the South Hill Spokane Neighborhood
The South Hill in Spokane is one of the original neighborhoods of the city with homes dating back to the late 1800s in some areas. Sidewalks, tree-lined streets, and numerous parks make the South Hill one of the most sought-after neighborhoods to live in. Manito Park is the gem of the South Hill. 78 acres of gardens, pathways, playgrounds, a pond, The Gaiser Conservatory, and even a cafe that is open during the summer.
From the South Hill, you can easily get to the High Drive Bluff Park which offers 20 miles of trails on over 500 acres with stunning views of the valley below. That is also where you'll find The Creek at Qualchan Golf Course, The Eagle Ridge Short Course, and the High Bridge Disc Golf Course.
The South Hill is a great blend of quiet, historic neighborhoods along with newer construction and developments. You're never far from services, health care, or shopping. It's truly a gem in the city of Spokane.
See The South Hill Homes For Sale In Spokane, WA
South Hill
December 8, 2023
More About South Hill
What's Nearby South Hill?
South Hill Spokane is located just minutes from downtown where you'll find shopping, restaurants, retail, and professional buildings. However, there are numerous shopping centers, restaurants and other services on the South Hill as well. Spokane's South Hil is about 40 minutes from the beautiful resort town of Coeur d'Alene, Idaho. The area is well known for its stunning lake and beautiful beaches. The Mt. Spokane Ski & Snowboard Park is less than an hour to the north and offers night skiing, a tubing hill, and a lodge.
You'll find easy access to the Interstate 90 from the South Hill, making it convenient to get to the Spokane International Airport, which is only about 15 minutes away. To the south, you'll find the famous Palouse where Washington State University is located in Pullman, WA. Eastern Washington University is about 20 minutes to the south in Cheney, WA.
Why Work With The Farr Group NW To Find South Hill Homes For Sale in Spokane, WA?
Aaron and Krista Farr are both lifelong residents of Spokane, Washington. They take enormous pride in their community and are honored to help their friends and neighbors with their important real estate decisions. As a family of four, Krista and Aaron are raising two wonderful buys who love the outdoors, traveling, and any adventure that comes their way. You can find Aaron and Krista helping their awesome clients, working on one of their investment properties, with their team at 4 Degrees, or having fun with their family. Please reach out to us to find that perfect home on Spokane's South Hill that meets your needs and your budget!
Contact the Farr Group NW